2 years Engineer-Assistant position in metabolomics
Untargeted metabolomics
legume species
specialized metabolites
environmental regulation
on specialized metabolite diversity and plasticity of pea (Pisum sativum) seeds, IJPB, INRAE, Versailles
Goal of the project
The objective is to characterize the specialized metabolite diversity in pea seeds, and their plasticity in response to multiple environments.
Pea (
Pisum sativum
L.) produces protein-rich seeds that are increasingly used as source of proteins for food applications. The presence of some specialized metabolites (SM) in mature pea seeds can alter the organoleptic properties of the protein fractions, but can also protect the seeds against stresses. In this project, untargeted metabolomic analyses will be used to characterise (i) SM landscapes within a large collection of pea ecotypes and (ii) environmental plasticity of SM in seeds from several pea varieties grown in different field trials. The Engineer-Assistant will use untargeted metabolomic analyses to characterize the specialized metabolic diversity and regulation by the environmental conditions. Candidate metabolic compounds will be further characterized for their activities.
Environment
The IJPB is a large European research centre that offers a unique research ecosystem. The IJPB contains six platforms with dedicated staff (The Plant Observatory (
PO
)) and is fully equipped for molecular biology, biochemistry/metabolomic (UPLC-MSMS, GC-MS, NMR), advanced microscopy and bioinformatics. The work of the Assistant Engineer will be integrated in the
SEEDEV
team, where she/he will benefit from the groups' expertise on the regulation of seed development and metabolism, and on the characterization of seed SM using untargeted metabolomics and other omics techniques.
Candidate
We are looking for enthusiastic candidates with interests in understanding plant/seed metabolism and its regulation using multiomic techniques. Ability to work in a team is essential. A bachelor (Bac+3) or master degree (Bac+5) in plant chemistry / biotechnology or related disciplines is required. A prior knowledge in mass spectrometry and statistical analysis is a plus, but not essential.
How to apply?
Applicants should provide (in English or French), in a single pdf file:
> 1 page CV
> 1 page motivation letter, where you can describe your academic background, professional experience (research activities, achievements), scientific interests etc. Please also indicate when you will be available for starting the contract.
> Contact information for 2 referees (name, role, email and telephone number). Do not send any recommendation letter.
Send the complete application file before the deadline to:
Massimiliano Corso
,
contact
Back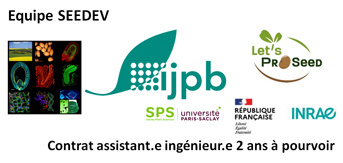 Important dates
Deadline for application
: 07 July 2023
Interviews
: 17-20 July 2023
Proposed starting date
: October 2023
Details and inquiries
:
Massimiliano Corso
,
contact