An engineer position in plant biology
A 2 year contract on "Maize responses to different biotic and abiotic environments"
Working environment and activities
You will be hosted by the Jean-Pierre Bourgin Institute (IJPB) located in the surrounding area of Versailles. The IJPB employs over 300 people (in 27 teams) and is under the joint stewardship of INRAE and AgroParisTech. The IJPB is one of the largest research centers for plant sciences in Europe and is known for its unique combination of experimental resources and multidisciplinary expertise in plant biology, chemistry and mathematics.
You will conduct your research within the QUALIBIOSEC team ("Biomass Quality and Interactions with drought"). This team focuses its research on identifying biochemical, histological, and molecular factors involved in lignocellulosic biomass digestibility in the context of climate change, particularly water deficit.
The engineer position is associated with 2 interconnected projects funded by INRAE and the Plant2Pro® Carnot Institute. The objective of the position is to study maize mutant lines under different controlled biotic and abiotic environmental conditions, especially under arbuscular mycorrhizal symbiosis and water limitation. The successful candidate will be responsible for managing the experiments to be carried out in the greenhouse to (1) investigate the effects of various stress conditions on plant growth and biomass quantity and digestibility and (2) characterize the biomass composition and lignified tissues distribution in response to these stress conditions. The hired individual will also present the results at various project meetings and utilize them in scientific publications. He/she will benefit from the expertise (genetics, biochemistry, histology, statistics, etc.) of all members of the QUALIBIOSEC team, but also from that of the GAPV team (Management of Nitrogen and Crops Productivity) of IJPB and the SMS team (Signalling Mechanisms in Symbiosis) of LIPME (Toulouse).
Training and skill required
Applicants must have a Master 2 in plant sciences or another related subject. Experience in maize plant culture is an advantage. Autonomy, rigor, organizational skills, dynamics and ability to work in a team are required to successfully complete the assignment.

INRAE's life quality
By joining the QUALIBIOSEC team at IJPB, you benefit from:
> an open and inclusive work environment with dedicated colleagues.
> access to the Saclay Plant Sciences network and Plant2Pro® Carnot Institute network
> until 30 days of annual leave + 15 days "Reduction of Working Time" (for a full time)
Back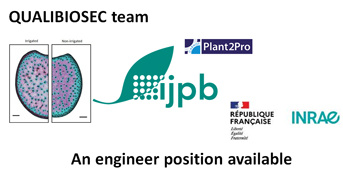 Reception modalities
> Unit: IJPB
> Postal code + city: 78026 Versailles Cedex
> Team: QUALIBIOSEC
> Type of contract: engineer
> Duration of the contract: 24 months
> Starting date: 1st March 2023
> Remuneration: 2100€/month gross salary

How to apply
Send a motivation letter, a CV and contact details for 2 referees as a single PDF file by e-mail to Christine Horlow, contact

Deadline for application: January 10, 2023