Conference "Graines 2023"
November 7-9 - IJPB, INRAE Ile-de-France - Versailles-Saclay
The French Network for Seed Biology ("Réseau Français de Biologie des Graines"), which coordinates this conference, gathers the French scientific community engaged in research on seed biology, encompassing their development, adaptation to the environment, and various applications in food and non-food contexts. Established in 2006, this network aims to foster interactions among teams working on seed-related research across different locations in France, spanning various disciplines.
To keep this network active and promote information sharing, a conference is organized every two years. To date, eight conferences have been successfully held: in Angers in 2007, Paris in 2009, Nantes in 2011, Dijon in 2013, Clermont-Ferrand in 2015, Montpellier in 2017, Angers in 2019, and Lyon in 2021.
This event is organized by IJPB, with active participation from members of the scientific teams SEEDEV, PHYGERM, and DYSCOL.

> For more information, please visit the conference website.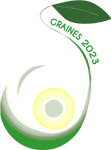 Back