Garry Duville, IJPB PhD students, finalist in the competition "My thesis in 180 seconds" at the Paris-Saclay University!
Follow the live broadcast and vote for the Public Prize, Tuesday, March 15, 2022 from 6:30 pm to 10:00 pm, on video or at CentraleSupélec
Garry Duville, a PhD student of the "Nitrogen Use, Transport and Signaling" NUTS team, studies the nitrate signalling pathway in plants. He is one of the 13 finalists among40 candidates in the University Paris-Saclay My thesis in 180 seconds (MT180) competition. The subjects covered will be very diverse and concern the plant world for 3 of the participants. The MT180 competition was originally created in Australia at the University of Queensland and has spread throughout the world. The version for French-speaking countries launched by Quebec is celebrating its 10th anniversary this year.

The rule: the 13 candidates have 180 seconds, no more, no less, to explain their research project with a single slide. It is therefore an arduous, but very instructive, exercice, to make ones thesis accessible to everyone in an attractive way, while demonstrating scientific rigor and creativity.
The selected candidates have the opportunity to participate in an oral training workshop to prepare for the final.

Final - Live replay link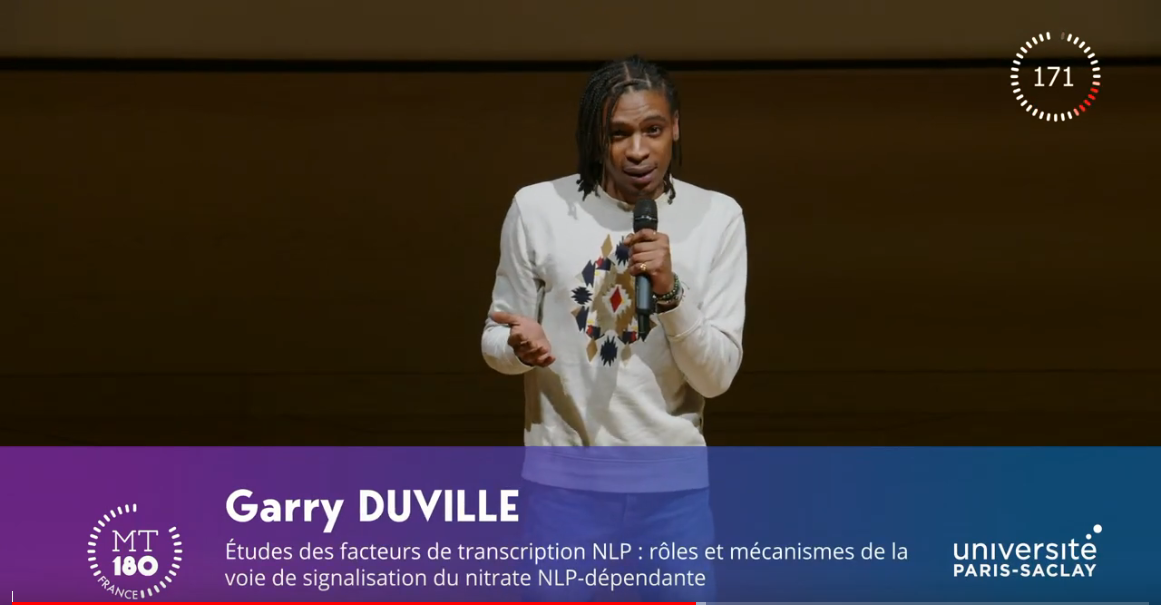 Which of the finalists will manage to seduce you in 180 seconds with their research project? It's up to you to vote on the day of the final, live!

Follow the final live in video
Youtube or Facebook
Or attend
CentraleSupélec
amphi Janet, bâtiment Breguet
Gif-sur-Yvette
Free Registration compulsory & More information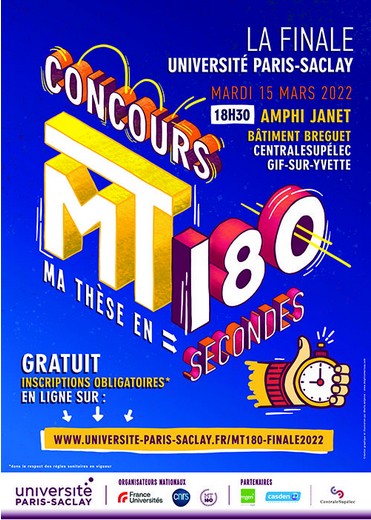 Back