Innovation : The BOSS project, born at IJPB, winner of the VEGEPOLYS VALLEY 2020-2021
BOSS offers services for seed lots customisation based on an innovative priming technology stimulating seed gemination in an endogenous and natural way.
This project is managed by Loïc Rajjou of the PHYGERM team research. This first price is also acknowledgement by the cluster VEGEPOLYS VALLEY (representing the seeds and plants sector) of two young talents, Omaé Pozza, engineer and Frédéric Chauffour PhD and engineer AgroParisTech. The latter having completed his Master 2 training and PhD at IJPB. Together they developped this project at IJPB too. The start-up will be created in 2021.
The « smart priming » technology developped during the BOSS project is a treatment improving germination of the seed priming type. The « smart priming » is based on a couple of chemical formulation-unique process, allowing seed quality improvement. The « smart priming » is a process stimulating seed germination for any environmental condition and increasing the seed storage length and confering protection against soil born pathogens too. This unique performance combination makes the « smart priming » treatment efficient to answer to seed producers and users needs. This project financially supported and helped by
SATT Paris-Saclay
is also supported by
cellule d'appui valorisation d'AgroParisTech
.
Back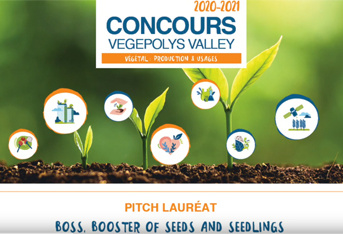 Scientific Contact IJPB:
Loic Rajjou
Highlight of BAP INRAE Division (Plant biology and breeding)
and the Carnot 3BCAR