Insights onto Plant Biology
Thematic issue of the Comptes rendus biologies from the French Académie des Sciences in tribute to Michel Caboche
Michel Caboche, one of the most talented scientists of his generation, passed away on March 15, 2021. After starting out in animal genetics, he developed research in several fields of plant biology, with major contributions that have boosted French research and left their mark on the international scientific community.
The French Academy of Sciences, of which he was a corresponding member since May 9, 1993, then a full member since November 30, 2004, paid tribute to him by organizing a symposium on March 15, 2022 (link)and by publishing his biography (link). This session allowed his collaborators and friends to present their past and recent work and to show the impact of Michel Caboche's achievements on their research field. We then wished to invite the speakers, as well as other colleagues, whom the limited time of a session or the availability had not allowed to invite, to propose a review article on their research domain to illustrate, on this occasion, the recent progress in plant biology.
The issue of Comptes rendus biologies, entitled "Insights into Plant Biology" ("Regards sur la Biologie Végétale"), gathers the articles of those who responded to this call within the imposed deadlines. These contributions illustrate the progress made, but also the questions still open, in fields as diverse as;
> the biology of apical meristems,
> the biology of cell walls and their relationship with organ growth, review by Herman Höfte, "Primary Cell Wall" PAR team,
> the biology of seeds and their germination, review by Sébastien Baud, Massimiliano Corso, Isabelle Debeaujon, Bertrand Dubreucq, Annie Marion-Poll, Martine Miquel, Helen North, Loïc Rajjou et Loïc Lepiniec, "Seed Development and Quality " SEEDEV team and "Germination Physiology" PHYGERM team, in collaboration with Dominique Job,
> the genetics of tomato taste quality,
> the questions raised by the silencing of genes by epigenetic mechanisms, review by Hervé Vaucheret (IJPB news), "Epigenetics and small RNAs" epiARN team,
> the role of non-coding RNAs in the regulation of gene expression,
> and paleogenomics and its use in plant improvement.
All these achievements, which were often largely inspired by Michel Caboche, show the vitality and dynamism of plant biology research in France.
They also reveal the multidisciplinary character of the approaches and their integration in a particularly active international community.

Michel Caboche was the director of the Seed Biology Laboratory (1994-2004), one of the founding units of the IJPB.



Back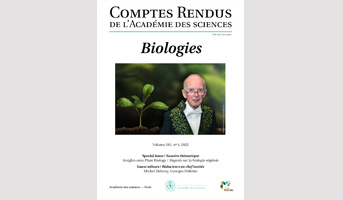 Michel Caboche, pioneer in plant biology, INRAE
news
, 19/03/21